Fahim sits in front of us and nods his head in a friendly way. We take this to mean we can start the interview. The young man doesn't seem to care too much about what we do in our lives, how we make our money or if we belong to an organisation. Fahim tells us he has been in the deportation prison Bässlergut for some months now pending deportation. Before this he had spent several years in various other prisons – firstly in a juvenile detention centre and then in adult prisons. He says he has been in prison for far too long and is sure he must have more than finished his sentence by now.
When asked how the everyday life in an ordinary prison differs from that in a deportation centre like Bässlergut, he names the opportunity to work. In prison Fahim was responsible together with eight other inmates for preparing lunch and dinner for 140 people.
It was a strenuous job, and in the evening, I knew how hard I had worked.
For the 6½ hours a day that he worked, Fahim received 22 Swiss francs. He managed to save some money so that he doesn't now have to work in Bässlergut.
Conditions in the deportation prison
Fahim tells us that the inmates in Bässlergut get on well with each other in general, even if communication is difficult, as most speak either English, French or Arabic but not German. He spends most of his time sleeping and doesn't have much to do with the other prisoners or the wardens. He only sees the latter when he gets medication (for his gastric acid reflux), a shaver or food. Otherwise he's by himself a lot. Until recently Fahim shared the cell with another inmate, but now he has been deported, Fahim has the cell to himself.
That doesn't matter to me. On the contrary. I prefer to be alone. I don't care what the mood in the prison is or how the others are doing. I've had enough of it all.
Ten people are currently detained in Fahim's wing of the centre and all should be deported as soon as possible. The wing has single, two-, four- and eight-person cells, as well as a common-room with table football, a kettle for making tea, a table and three chairs.
Just yesterday an observation camera was installed in the common-room. Probably because some inmates smoked cigarettes while playing table football.
Unlike prison, the food here is awful, Fahim tells us. "Sometimes there is only soup and a piece of bread in the evening". Everyone eats on their own in their cell.
Impending deportation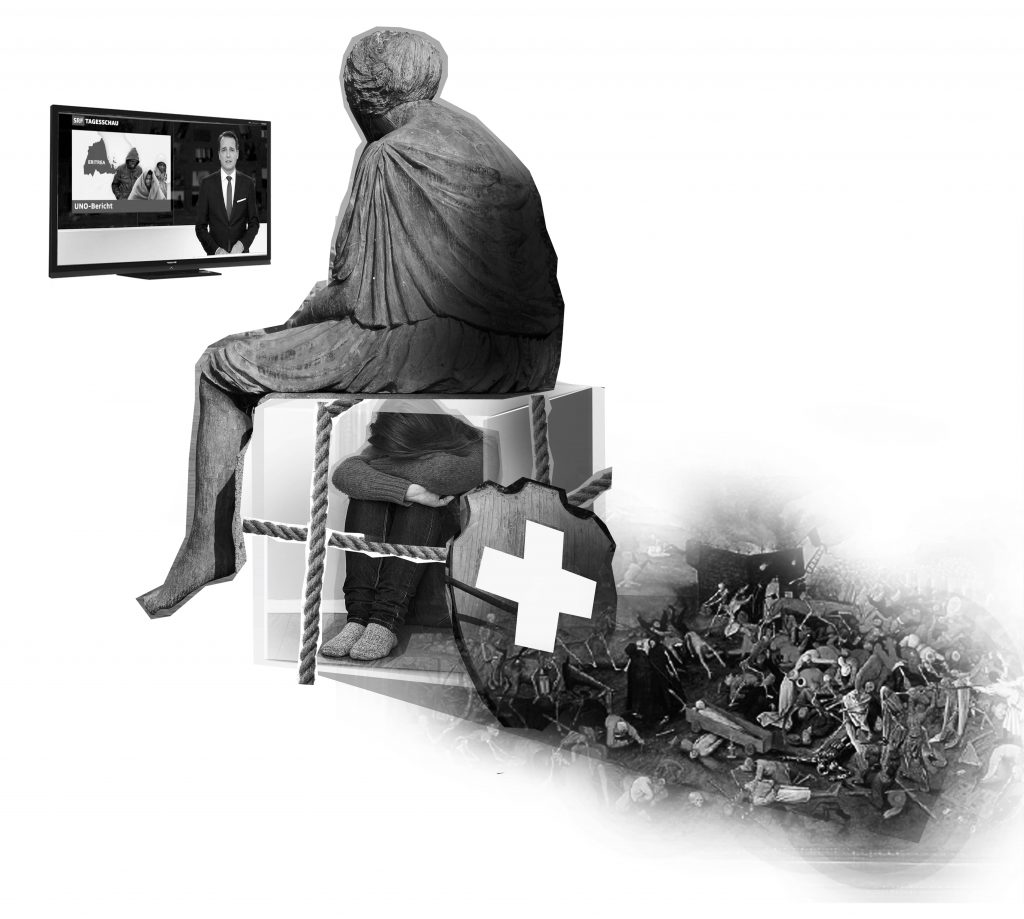 The first time Fahim heard that he was going to be deported was in a letter. This listed his crimes and the grounds for the deportation. Although Fahim put the letter aside, he tells us, he never forgot it. In fact, he always believed that he would be freed after having served his sentence. He received the letter at a time when he was on the run, having absconded from an open prison. But after a few months he turned himself in to the police. Because he had absconded he wasn't allowed to return to an open prison but had to go to a detention centre instead, where he spent a further year.
At the detention centre you're in your cell for 23 hours a day and are only allowed out for one hour. It wasn't until I wrote to the authorities that I was allowed to leave the detention centre.
Why he had to stay in the detention centre for such a long time, he still can't explain. After the detention centre and following his trial Fahim spent a further two years and nine months in prison.
The authorities there are the worst when it comes to applying for early release on grounds of good behaviour or for holiday permits. I was neither granted leave, nor was I released early for good conduct. But that didn't just happen to me, it was the same for most of the others too.
Two weeks before his release, he was told that he would be moved to Bässlergut in order to prepare for his deportation. Ever since then, Fahim has been fighting to be released, but a request to the Court of Appeal for discharge was denied. Although Fahim – as he tells us – hasn't entirely given up hope, it's diminishing day-by-day. Asked what he would do if he were actually released, Fahim says he would go to Sri Lanka for up to three months.
After that I would return to Europe, either to Germany or Austria, where I would have to stay at least five years before I could enter Switzerland again.
He tells us that he already has contacts in Austria. He knows a boxing club there and has already sent them videos of him boxing. The club would like to take him and would help him look for a job.
Prison & deportation as seen by Fahim
For Fahim a B-permit means much the same as an F- or C-permit. His younger brother and his father both have a C-permit; his mother a B-permit. Why his mother hasn't got a C-permit despite being employed and having lived long in Switzerland, he doesn't know. Like him, his older brother is in custody and is also threatened with deportation. Five years ago, a friend of his was deported to the Ivory Coast. "He's in bad shape there, because all his relatives are in Switzerland". Fahim thinks that a prison sentence may sometimes make sense, especially if it can help you gain an insight into your behaviour. When we ask Fahim if he would have given himself a prison sentence, he replies,
I have committed many crimes; even the police don't know about many of them. Altogether, I think 4½ years in prison are warranted. Somehow or other I've earned such a long prison term.
However, he finds it difficult to accept that, after having served his prison sentence, someone should then be deported. He cannot understand how one can take everything – even family and friends – away from a person. Furthermore, he finds it absurd to invest a lot of money in integrating somebody into society, only to subsequently deport him. Fahim points out that he has changed a lot over the years and learned a great deal, but this doesn't seem to interest the authorities. Although he has been living in Switzerland for 17 years and has no ties to Sri Lanka, he should be deported there.
I've paid my debt to society, served my sentence in prison. Now I am waiting for a miracle.
Politics and perspectives
Before he went to prison Fahim hadn't thought much about prisons or deportation. "As long as you don't have anything to do with them, the whole thing seems far away". Fahim doesn't know whether in the future he wants to fight against repressive measures such as imprisonment or deportation. He assumes that people would then point a finger at him and call him a criminal. To go to a demo would take a lot of courage for him, as they often end up with a confrontation with the police. His friends aren't politically active either.
When I'm released, I don't want to do anything but work, box and spend time with my family. I don't expect anything great from life anymore.
This article is based on a conversation the authors held with Fahim. For Fahim it was important that the article covered everything that we talked about and not just focus on one main point. Before the interview Fahim was offered the opportunity to narrate freely, but he preferred to answer questions which the authors had prepared in advance. The authors of this article have been arguing against Bässlergut for a long time. Their fundamental criticism of the prison is based on their rejection of the rule of one over others.